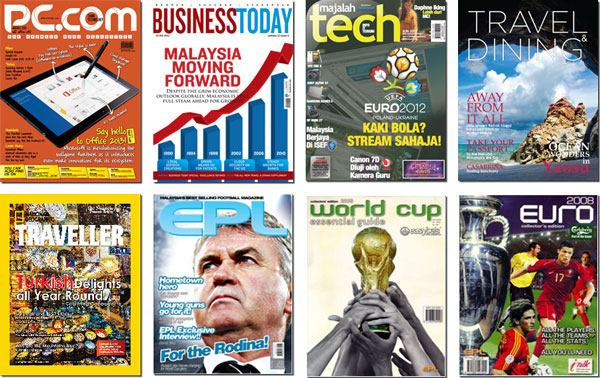 Reach Publishing Sdn Bhd was incorporated in 1999 and has been publishing magazines ever since. Magazines in our portfolio include PC.com, Majalah Tech, Business Today, Travel & Dining, Euro, World Cup and Malaysian Golf Directory.
We are established with 11 years experience in IT publications, and have achieved Tier 1 status for tech related news, with PR agencies and clients. We are also familiar with newspaper and datelines (directors for NST employees), have excellent working relationships with various tech bodies and government agencies, and clearly understand the market structure through roadshows and college surveys.
We offer bundle packages and specialize in this field with our various methods in offering clients a 360 marketing plan, giving multiple touch points in their campaigns.
PC.com, Business Today and Majalah Tech are the No. 1 magazines in their respective fields and have been so since their launch.
PC.com is also supported by our web portal www.liveatpc.com, Business Today at www.businesstoday.net.my and Majalah Tech at www.majalahtech.com.
The company has 17 employees, all of which have years of experience in advertising and publishing.
Our Editorial Team:
Vino Nair
The current Editor-in-Chief of Reach Publishing, Vino overlooks all magazines and ensures that only the highest standards are met. She is also the Editor for Business Today Magazine.
Victor Yap
The Deputy Editor of PC.com. Ex-PR consultant now gone back to journalism, weekend news-blogger and corporate guy. Basically an average joe looking for a direction in life. He's all ears to any suggestions, so please throw them his way!
Sharil Abdul Rahman
Tech writer for @pcdotcom and @majalahtech. Talks about Tech Anime Flying. Not always in that order.
Nur Atifi
[Profile]
Farhan Gazi
A writer at PC.com.
Calvin Khong
Technology is what I love especially mobile technology. Small is still the new big and that includes TV!
Our Sales Team:
Grace Lim
[Profile]
Steven Maniam
[Profile]
Kenneth Tan
[Profile]
Sean Yap
[Profile]
Nisya Aziz
[Profile]
For inquiries, please contact us at sales@reach.com.my